Set in the heart of the Levee District, adjacent to City Hall and the Fondulac District Library, Levee Park will feature a spectacular water feature, venues for markets and festivals in an open multipurpose lawn, space for sporting and music events, and terraced seating areas. Designed to be family-friendly, the park will also accommodate daily activities, such as casual strolling, gathering, and outdoor dining from adjacent restaurants.
Most importantly, the park will become the new iconic face of East Peoria – green, growing, and family centered.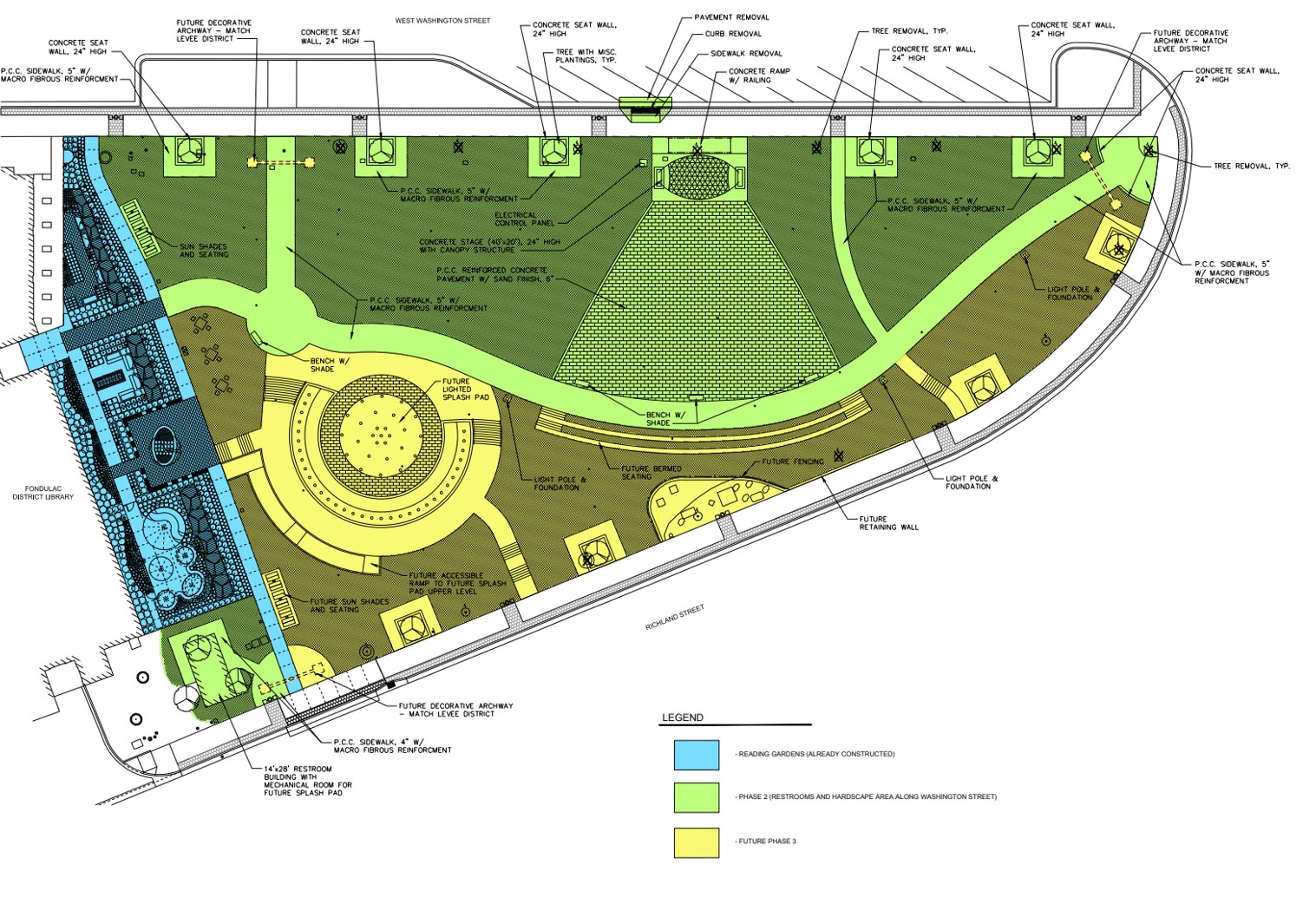 The total Levee Park project is about $3 million. The initial phase, the Reading Garden, has been completed and is shown in blue on the engineering drawing shown here. We are now building the second phase of the project estimated to be about $1.1 million, which is fully funded by donations and grants. This phase includes infrastructure, a large multipurpose plaza, public restrooms, and a performance stage. Our current, second phase is shown in green. Fundraising is underway to complete the final phase to be constructed in 2023 or 2024, which will include a fountain and splash pad for children. This last phase, shown in yellow, is estimated to cost $1.4 million. About $800,000 is needed to complete this last phase of Levee Park. We are almost 75% to our goal and are asking area businesses and individuals to donate to help us build the park.
The goal of the new park is to draw people regularly into our downtown district to spur economic activity and growth, reconnect and beautify our downtown, and provide the infrastructure needed for community activities and events. The Foundation Board views this undertaking as being a once-in-a-century opportunity to develop a green, family-friendly space right in the center of our downtown that will for decades be thought of as the iconic heart of the city.
---